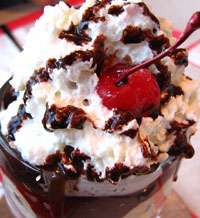 Summer is Approaching Quickly!
Anyone looking for a manageable small business
with an established clientele of both adults and kids,
in a rapidly growing town, within commuter distance
of Atlanta will see the potential of this little gem.
This cute little shop in the historic downtown area
is perfect for 1 a 2 people.
It is a fully equipped 1000 Sq. Ft.
turnkey operation with a great rent-only $1400.00 a month.
It is a gathering place for young families.
Located in a cottage-like commercial setting,
it is surrounded by other local attractive businesses
steeped in Southern charm and tradition.
Located in an arts community by a
cultural venue that hosts one of the
states largest Pottery Events. Directly across is
a venue that holds outdoor picnic and concert
events that attract 500 to 1000 folks.
This location is a regular vendor at these events!
An annual town festival is held within blocks of this location.
For a very small investment this opportunity can this yours. Priced to sell at $60,000.
Atlanta Restaurant Exchange
Call 404-892-4999
for more information about this opportunity!
Ice Cream Shop For Sale Near Athens Georgia
Restaurants For Sale in Atlanta Georgia